Dr. Samuel Boff
Post-Doctoral Fellow
Conselho Nacional de Desenvolvimento Científico e Tecnológico (Cnpq) - Brazil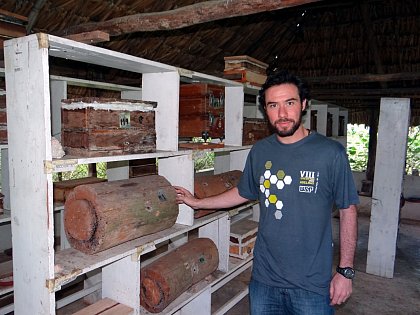 Dr. Samuel Boff
Professional Career
Post-Doctoral Research Fellow, MLU-Halle-Wittenberg. 2013-present. Thema: Social Evolution in orchid bees: genetic underpinning of the solitary-eusocial transition
Visitor researcher at Universidad Autónoma de Yucatán, Mexico. Period: November 2013-February 2014. Thema: Social behaviour in orchid bees
Researcher at the BioComp (University of São Paulo), 2012. Thema: Agricultural crops pollinated by bees in Brazil
Teaching assistant (Bachelor students) in Ecology: 2009. University of São Paulo (80h)
Teaching: Ecology, biology, systematics and taxonomy of Neotropical bees: 2009. Federal University of Mato Grosso do Sul, Campo Grande, MS. (40h)
Teaching: Entomology: 2009. Faculdade de Filosofia Ciências e Letras de Ribeirão Preto- University of São Paulo, Ribeirão Preto-SP (60h)
Teaching: Sampling and organization of insects: Different sampling methods and cares with entomological collection: 2009. Faculdade de Filosofia Ciências e Letras de Ribeirão Preto- University of São Paulo, Ribeirão Preto-SP (8h).
Teaching: Pollination Ecology: Mechanisms and Evolution: 2007. Academic Conference of Biology, Federal University of Mato Grosso do Sul, Brazil (8h).
Degrees
2012 Ph.D. in Entomology, University of São Paulo, Brazil
2008 M.S. in Plant Biology, Federal University of Mato Grosso do Sul, Brazil
2005 B.S. in Biology, Federal University of Mato Grosso do Sul, Brazil
Research
General research interests
Evolution of social behaviour, behavioural ecology, population genetics, conservation, and pollination ecology
Specific research
I am generally interested in studying the evolution of the social behaviour in bees, but more specifically I am interested in bees with primitive eusocial behaviour. To gain a better understanding of how the transition from solitary to social behaviour has occurred I am studying social behaviour of a non-model organism, popularly known as orchid bees (Apidae: Euglossini), a group of bees mainly distributed in Neotropical regions. The orchid bees are a sister group of honeybees and these two clades together are closely related to bumblebees and stinglessbees. The tribe Euglossini is the only one in Apinae ((Apini+Euglossini) + (Bombini+Meliponini)) where eusociality does not exist, instead bees within Euglossini exhibit solitary, communal, and other primitively eusocial behaviours.
As I am deeply interested in the natural history and evolution of social behaviour of this unique species, and to better understand cooperation and conflict within Euglossa viridissima (figure 2), I have conducted experimental nest manipulations of this primitively eusocial orchid bee. In past field work, I have used molecular tools such as microsatellites to determine if social cooperative behaviour has evolved through kin selection due to an increase in relatedness from reproductive manipulation of the dominate female in the nest. I am also using quantitative genetics (eg. qPCR and next generation sequencing) to better understand the underlying mechanisms involved in the transition from solitary to social behaviour in general.
Publications
Penha RE, Gaglianone MC, Almeida FS, Boff S, Sofia S (2014) Mitochondrial DNA of Euglossa iopoecila (Apidae, Euglossini) reveals two distinct lineages for this orchid bee species endemic to the Atlantic Forest. Apidologie. DOI: 10.1007/s13592-014-0329-7
Giannini T. C., Boff S., Cordeiro G. D., Cartolano Jr E. A., Veiga A. K., Imperatriz-Fonseca V. L., Saraiva A. M. (2014) Crop pollinators in Brazil: a review of reported interactions. Apidologie. DOI: 10.1007/s13592-014-0316-z
Boff S., Demarco D., Marchi P., Alves-dos-Santos I. (2014) Perfume production in flowers of Angelonia salicariifolia attracts males of Euglossa annectans which do not promote pollination. Apidologie DOI: 10.1007/s13592-014-0305-2
Boff S, Soro A, Paxton R, Alves-dos-Santos I (2014) Island isolation reduces genetic diversity but does not elevate diploid male production in a Neotropical bee. Conservation Genetics. DOI 10.1007/s10592-014-0605-0
Boff S, Araujo AC & Pott A (2013) Interactions of bees (Hymenoptera:Apoidea) and flowers in forest islets of southern Pantanal wetland Biota Neotropica vol. 13, no. 4 http://www.biotaneotropica.org.br/v13n4/pt/abstract?article+bn00813042013 ISSN 1676-0603.
Cordeiro GD, Boff S, Caetano TA, Fernandes PC, Alves-dos-Santos I (2013) Euglossini bees from Atlantic forest of São Paulo, Brazil: Apidologie. 44:254–267
Santos CF, Boff S (2010) Subtle visits despite guards: Theft from nest of stingless bee (Meliponini) by orchid bee (Euglossini). Entomological Research. 40:233–235.
Boff S, Luz CP, Araujo AC, Pott A (2010) Pollen analysis reveals plants foraged by Africanized honeybees in the Southern Pantanal, Brazil. Neotropical Entomology. 40:47-54
Boff S, Graciolli G, Boaretto AG, Marques MR (2008) Visiting insects of exudate gums by Terminalia argentea Mart. & Zucc (Combretaceae). Revista Brasileira de Entomologia. 52:477-479
Under review papers:
Boff S, Forfert N, Montejo E, Euan Quezada JJ, Paxton R J (submitted to Insect Sociaux). Resin theft by non-nestmate conspecifics may have selected for a guarding caste in a primitively eusocial orchid bee Euglossa viridissima
Cordeiro G, Boff S, Alves-dos-Santos I. (submitted to Environmental Entomology) Solitary bee communities and associated parasites in Atlantic Forest areas, southeastern Brazil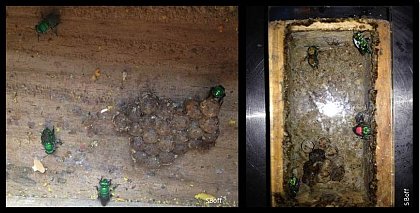 Primitive eusocial orchid bees, Euglossa viridissima (Apidae: Euglossini)
---
---